Please join us us for the 2018 Women in Collision Seminar & Awards

BE INSPIRED BY A DAY OF LEARNING
AND CELEBRATE THE ROLE WOMEN PLAY IN THE INDUSTRY
EVENT DETAILS
When: 1pm - 5:30pm on Friday, November 16th 2018
Where:  IAG Centre, Level 1, 181 William St Melbourne

If you would like to attend, please click here to reserve your spot.
Entries for the 2018 Women in Collision Awards have now closed.
The Women in Collision awards, now in their fifth year, were created to recognise the outstanding contribution women make to what is undoubtedly a male dominated industry.
From shop owners to technicians in the workshop and every conceivable role in between, there are women who are the backbone of successful autobody businesses across the country.
It's time to nominate a talented, determined, successful woman who makes a positive impact on your autobody repair facility for the 2018 Women in Collision awards.
Up until last year, the finalists were presented with their awards at a lunch. In 2017, the awards program was enhanced to include a seminar which was held at IAG's research centre in Sydney. The event was a great success and the women there enjoyed meeting others who share their daily experiences. The Women in Collision closed facebook group has over 100 members now who regularly share knowledge. This year we're feeling the Melbourne vibe and will announce a venue for the seminar and awards presentation, which will take place in November, soon.
To prevent the awards being owner/manager top heavy, there will be two winners picked in three categories:
Female technician/estimator
Admin/reception/customer service/parts managers
Owner/manager
The finalists are selected by the previous year's winners. Entrants can be nominated by their colleagues or nominate themselves. First you nominate and then you will receive an email with a linke to a Survey Monkey form where the nominee or nominator tells us all about the women's role in the business and why she deserves to win. Last year's winners received their award, and an I-CAR training voucher.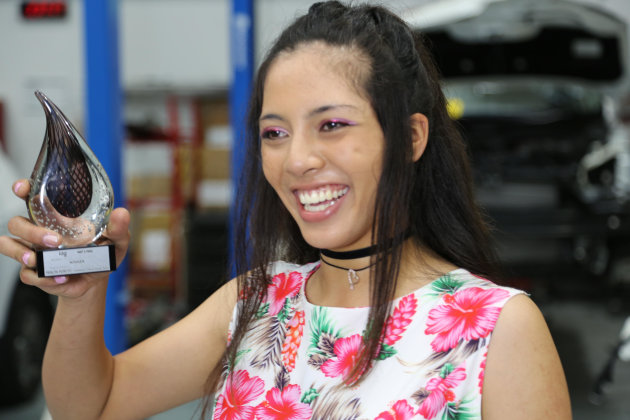 2017 Technician winners
Lara Anastasi: Head painter at L&M Smash, Sydney
Perlita Puruto: Second year panel technician, Workhorse Collision Repairs, Sydney
2017 Adminstration winners
Corinne Verdile, parts manager and reception, Wayne Phipps Smash Repairs, WA
Brittany Howchin, Thompson and Robinson Smash Repairs, reception, estimating, Wollongong, NSW
2017 Management winners
Kate Presnell, manager, Gary Presnell Bodyworks, TAS
Joanne Stavris, manager, Gow St Autobody Repair Centre, Sydney
Paint & Panel will interview and feature each finalist in our magazine and on our website. Finalists will be flown (where appropiate) to the venue for the seminar and award presentation and will make up the 2019 judging panel.
Nominated before?
If you have nominated someone before and they were not selected as a finalist please nominate again. It's a different panel of judges each year and maybe you just needed to add more detail to the Survey Monkey judging form.
CATEGORIES
Trades People | Estimators
Admin | Reception | Customer Service
Owner | Manager
Industry Supplier Representative