While beauty is subjective, Private plates supplier Click4reg has applied an ancient Greek mathematical equation to end the debate once and for all, crowning the most beautiful cars ever made. As this was a UK company they didn't put in many muscle cars - but the Lancia Stratos coming third? Is it just me or is that car just pig ugly? And, where is the Ford Mustang?
Click 4reg extracted 50 of the world's most beautiful cars ever made from Autocar magazine, inputting every car into the Golden Ratio formula. Having found every car's official height and width, each car was assessed by calculating their discrepancies alongside the golden ratio (1.61803398875). The percentage difference between the golden ratio and the discrepancies gave the final percentage score, thus revealing the vehicles with the lowest errors as the most beautiful. 
The most beautiful car according to the golden ratio is the 1994 McLaren F1 as it earned the lowest percentage difference of 1.33%. This supercar model is not only deemed to be ahead of its time thanks to its bodywork, it was also praised as the world's fastest car during its launch and considered to be a technological masterpiece. 
With a percentage difference of 1.94% from the golden ratio, the 1970 Lamborghini Miura (right) puts the supercar in second place. The Miura was the fastest street sports car produced during its time and is still considered to be one of the most beautiful cars ever made even after more than 50 years since its production. 
Following in third is the 1957 Ferrari TR250 with 2.36 percentage difference. The 250 Testa Rossa sports car was designed for competing racers in response to the enforced maximum engine displacement of 3 litres on prototypes for the 24 Hours of Le Mans and World SportsCar Championship races, ultimately achieving multiple wins in the following years. 
Coming in fourth is the 1974 Lancia Stratos (pictured below) with a 2.56% difference. The Lancia Stratos is a 2 seater fixed-head coupé with a width of 1750 mm and height 1110 mm, designed by Marcello Gandini at Bertone.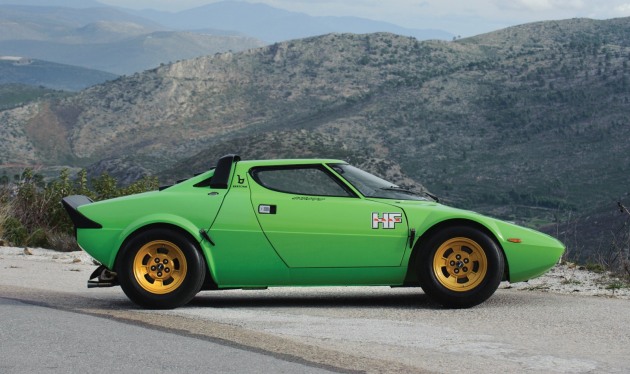 Rounding off the top 5 is the 2017 Bugatti Chiron. With a width of 2038 mm and height of 1212 mm, the Chiron model achieves a 3.92% difference from the golden ratio. 
Ferrari proved to be the manufacturer that has produced the most beautiful cars with 9 out of the top 50. This is followed by Alfa Romeo and Aston Martin both with 5 cars listed and closely in third is Jaguar with 4 models listed as most beautiful. 

Cars produced before the millennium (2000s) are the most attractive with over 40 cars listed compared to models made after the 2000s.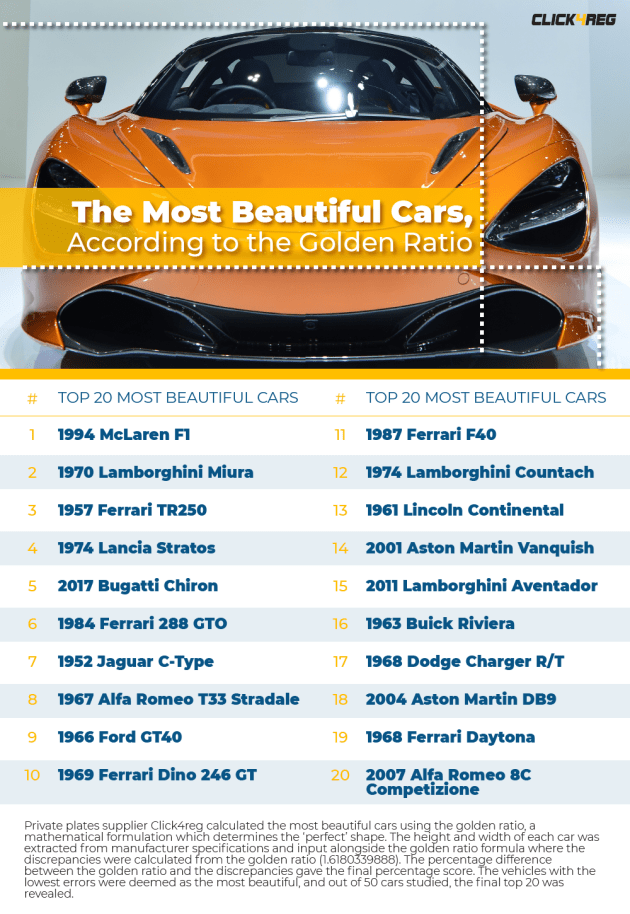 Once the data was collated for each vehicle, these were input alongside the golden ratio formula (a mathematical formulation that determines the 'perfect' shape) where the discrepancies were calculated from the golden ratio (1.6180339888).