The Women in Collision awards and seminar took place at the stylish venue Beta in Sydney on Friday 17 February.
Over 130 people gathered to cheers on the finalists, network and hear inspirational speakers. Guests enjoyed some fine food and wine before the formalities began. 
First of all we heard from our platinum sponsor. George Manos, IAG's Manager of Industry Risk and Governance, talked about why sponsoring the awards are so important to IAG and about the company's commitment to diversity. Thank you to all of our sponsors who made the day possible - IAG, 3M, Sherwin Williams, Wallaby Crash Supplies, BASF, Axalta, iBodyshop and Parts Check.
Our keynote speaker is the epitome of brave. Hacia Atherton was crushed by her horse while dressage training and was harbouring hopes of representing Australia at the Olympics. She was told it was unlikely that she would walk again. She had to undergo multiple surgeries and she shared her journey to not only walking again but running a half marathon. The theme of her presentation was courage and her strategies to stay positive and motivated. While she was in hospital she was inspired to set up a not for profit - Empowered Women in Trades - to encourage and support women to take up tools - she's our kind of lady.
Next to take the stage was Dr Lucy Morgan one of Australia's top lung specialists. Paint & Panel has teamed up with the Lung Foundation this year to raise money for them and awareness within the industry about the dangers of work-related lung diseases. Morgan urged everyone to wear the appropriate PPE and to get themselves checked out as soon as they have any breathing issues.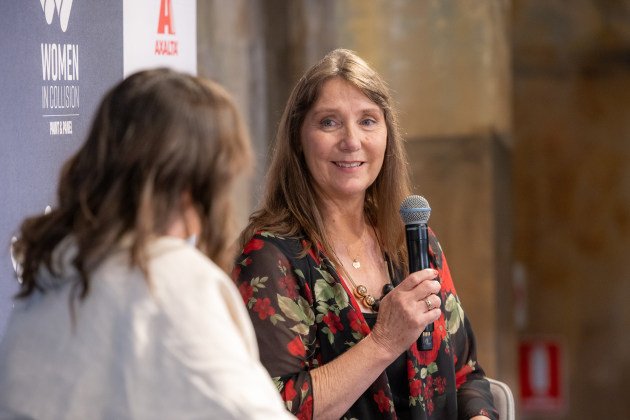 Finally we had a chat with finalist Margaret Bauer from Cooma Crash Repairs about what she would tell her 18-year-old self. She also touched on courage and we shouldn't let anyone stop us pursuing our dreams. 
After desert it was time to announce the winners in each of the categories. It's always an emotional occasion and the winners spoke beautifully about what their awards meant to them. You can read all about the winners in the next issue of Paint & Panel magazine.
Owner/manager Finalists
Angela Burns, Fortress Collision Repair Services, Mansfield, Queensland
Sarah Karavasilias MPSR, Sydney, NSW
Kate Presnell, Kate Presnell Bodyworks, Launceston, Tasmania
Michelle Te Rure, Action Smart Group, Adelaide, South Australia
Helena Willmot Willmot Smash Repair Specialists, Cairns, Queensland
Owner/manager Winners
Sarah Karavasilias MPSR, Sydney, NSW
Kate Presnell, Kate Presnell Bodyworks, Launceston, Tasmania
Administration Finalists
Joanne Absalom, Burleigh Smash Repairs, Gold Coast, Queensland
Brooklyn Allen, McCarthy Panelworks, North Mackay, Queensland
Margaret Bauer, Cooma Crash Repairs, Cooma, New South Wales
Nicole Goh, Sheen Panel Service, Coburg, Victoria 
Bronte Sutherland, Kate Presnell Bodyworks, Invermay, Tasmania
Bonnie Van Ousten, Australasian Hail Network, Underwood, Queensland 
Administration Winners
Joanne Absalom, Burleigh Smash Repairs, Gold Coast, Queensland
Margaret Bauer, Cooma Crash Repairs, Cooma, New South Wales
Parts Manager Finalists
Kylie Clark, Bellarine Smash Repairs, Geelong, Victoria
Janine Dandan, Q-West, Sydney, NSW
Carlie Martin, Gemini Rockhampton, Queensland
Aleisha Oakley, Wells Bodyworks, Hobart, Tasmania
Kelly Rykers, Riviera Panels, Bairnsdale, Victoria
Parts Manager Winners
Kylie Clark, Bellarine Smash Repairs, Geelong, Victoria
Kelly Rykers, Riviera Panels, Bairnsdale, Victoria
Technician/Estimator Finalists
Danyelle Burhner, Wales Truck Repairs, Kingswood, New South Wales
Charlenne Nimmo, Joondalup Smash Repairs, Western Australia
Chloe Oldland, Joondalup Smash Repairs, Western Australia
Amber Tsivilis, Unique Bodyworks, Ferntree Gully, Victoria
Jess Weir, Northside Smash Repairs, Brisbane, Queensland
Technician/Estimator Winners
Chloe Oldland, Joondalup Smash Repairs, Western Australia
Jess Weir, Northside Smash Repairs, Brisbane, Queensland
Industry Supplier Finalists
Rebecca Andersen, PartsCheck, Queensland
Rachel Daly, Workskills, Brisbane, Queensland
Kirsten Dodd, BASF, New South Wales
Zara Dickie, Compass, New South Wales
Jade Griffiths, Mazda Parts WA, Western Australia
Melanie Swift, Axalta, New South Wales
Industry Supplier Winner
Kirsten Dodd, BASF, New South Wales
Zara Dickie, Compass, New South Wales