World Auto Steel, the group made up of 20 major global steel producers, has been busy building what it calls the Steel E-Motive Autonomous BEV demo vehicle. 
Despite the less than catchy title it's an interesting project as it gives an insight into what future vehicles could be made of. When the autonomous vehicles come, and they will eventually, they will still need to be repaired as humans have proved extremely efficient at always finding a way to damage vehicles - even if they are controlled by AI (shopping trollies etc)
World Auto Steel has, over the past eight years, conducted extensive research into global trends such as urbanisation, transport emissions reduction, as well as the waning interest in vehicle ownership among the young and old. This is especially prevalent in megacities characterised by pollution, congestion, limited parking and enormous ownership costs. The research concluded that mobility as a service (MaaS) will grow exponentially in high population areas and would place a significant challenge on vehicle design and manufacturing.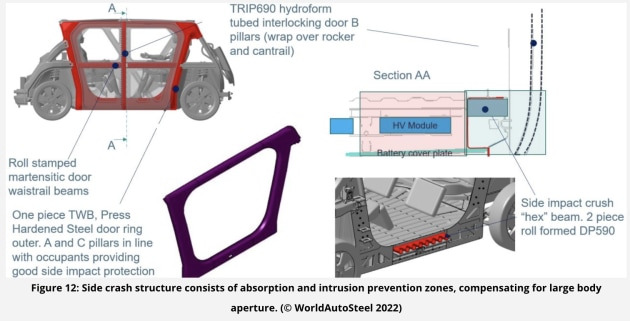 Obviously this group doesn't want manufacturers dabbling with aluminium, carbon fibre or any other non-steel substrates.
The global steel industry is investing significantly in product and fabrication development to continually prepare for the next challenge. High Strength and Advanced High-Strength Steel (AHSS) portfolios have grown to more than 60 grades available for use in designing and optimising Steel E-Motive's autonomous BEV architecture. Third Generation AHSS (3rd Gen AHSS) will have a prominent role in Steel E-Motive's body-in-white, taking strength levels ever higher while improving manufacturability. And the industry continues to evolve Press Hardened Steels (PHS) with strength levels upwards of 2000 MPa.
Finally, efficient fabrication processes such as roll stamping, press hardening, and hydroforming use less steel and therefore contribute lower vehicle production emissions. These are the details being highlighted in Steel E-Motive, where the group hopes to demonstrate that only 'Steel can make it Real' (a bit more catchy, that one).
With many of the concept MEV cars having and open B-pillarless body structure so that passengers can face each other the design teams have started with a clean slate. You can read a detailed description of how they have created platforms with excellent rigidity and crash performance. Yes folks, breath in, breath out, they still expect them to be involved in collision.