Designed for the repair of small to medium auto body damage the CDR1 Cosmetic Dent Repair workstation from Car-O-Liner is a value-packed repair cart that allows you to quickly and efficiently provide professional repairs of light cosmetic damage. These quick cosmetic collision repairs generate good margins, faster cycle times and a decreased need for investments in expensive, heavy equipment. 
Features and benefits
ALL-IN-ONE – The CDR1 contains all the equipment and materials needed to perform light to medium collision damage repair quickly and efficiently.
PORTABLE – Roll the workstation easily to wherever it needs to be.
VERSATILE – CDR1's small footprint makes it the perfect addition to any workshop. Provide extended service to current customers, and attract new ones.
3 VERSIONS – There is a CDR1 to meet any workshop's needs. Upgrade and add more great repair solutions to your all-in-one workstation.

Basic Kit = Workstation, CR235 Combi Spotter, Drawer 1 for Steel and Drawer 2 for Aluminum
Advanced Kit = Basic Kit + Drawer 3 for Glue
Master Kit = Advanced Kit + Drawer 4 for Holding and Drawer 5 for Push-Pull
CR235 COMBI SPOTTER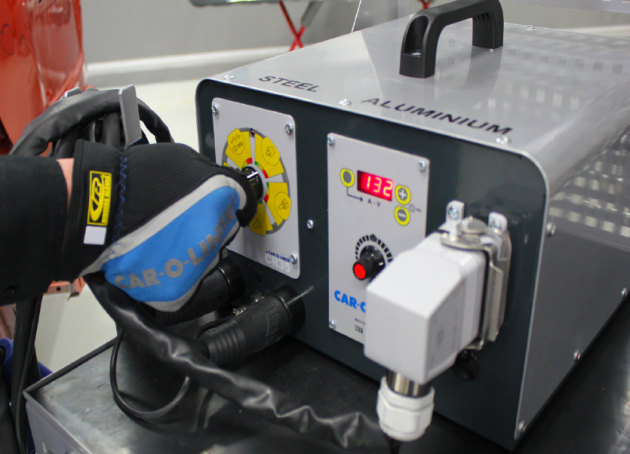 This unique spotter, with two separate guns, can easily switch between steel and aluminum welding operations.
EFFICIENT — Switch quickly between two dedicated guns — no need for extra equipment. The duo machine meets aluminum and steel welding needs.
QUICK — Disassembly of the panel is not required. Reduce spare parts orders, and save up to 40% on repair time!
PRECISE — Minimize welding, and decrease the chance of altering panels through heat or burn-through. Eliminate the risk for compromised corrosion protection.
For more information click here.