Ground-breaking new PPG clearcoat technology means LVC-105 EnviroFIVE Clearcoat cures in just five minutes - with no downsides.
In the past, 'express' or 'fast' clears were the way to boost clearcoat curing time, when required, but not anymore. PPG's all new LVC-105 EnviroFIVE Clearcoat has the incredible ability to cure in just five minutes on jobs you are doing all day, every day. Importantly, it achieves this cycle-time-slashing speed without the downsides of many fast clearcoats, such as finicky application, ordinary gloss or time-consuming polishing.
Advanced chemistry clears a bottleneck
Primarily designed for use with PPG's best selling, Enivrobase high performance low-VOC paint system, EnviroFIVE is an everyday clearcoat with extraordinary, profit-boosting performance. In many collision repair centres, the spray booth is a limiting factor for production capacity. While conventional clearcoats cure in around 40 minutes and express or rapid clears can trim it to around 15 to 20 minutes, EnviroFIVE introduces a whole new ballgame. Perfect for fast paced collision centres, it cures in just five minutes at 60°C panel temperature and it is not affected by humidity. As a result, this next-gen product gives repairers an unprecedented option to slash booth cycle-time without having to invest in extra equipment. It's an ideal opportunity to process more jobs per day and make a positive impact on business profitability.
Reduced energy
A shorter bake time also saves on booth energy consumption. To save even more energy, simply reduce the bake temperature to 40°C and EnviroFIVE still cures in 20 minutes. You can even delete the baking process completely, as EnviroFIVE is also capable of air drying.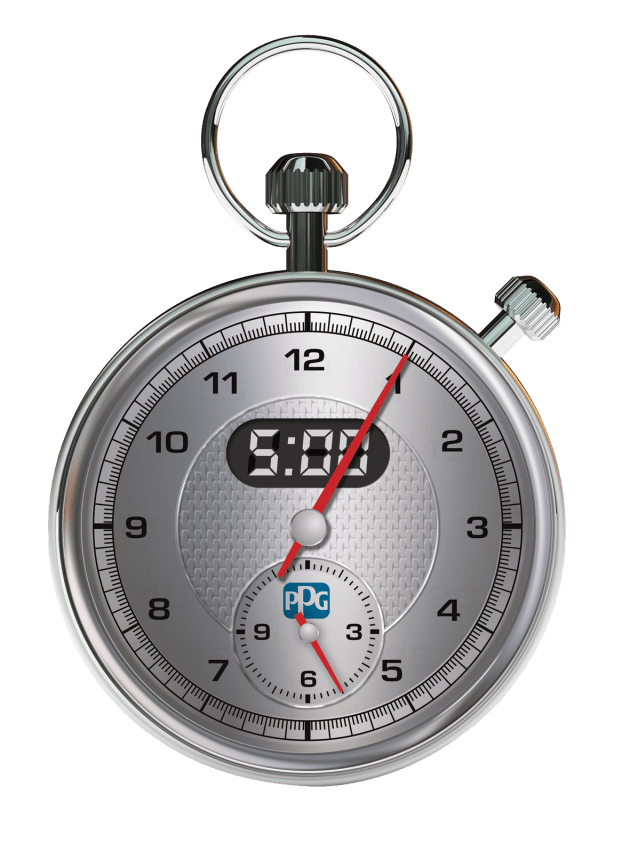 Hard, glossy finish
As well as being very straightforward to apply, EnviroFIVE features outstanding hardening properties so it's ready to polish as soon as it cools down. It also produces a clear, clean, gloss finish straight off the gun and the extra UV absorbers give it excellent long-term durability in our harsh local climate. The ability to fit up vehicles sooner and polish sooner also save precious production time and contributes to an even faster cycle-time.
Clear versatility
EnviroFIVE's remarkable next-gen technology allows it to be used on anything from a spot repair, to a couple of panels or a full respray where it delivers the same excellent performance and end result. In fact, EnviroFIVE could be the only clearcoat you ever need. Call your local PPG Territory Manager or Training Manager and ask for an in-shop trial and get your stop watch ready.
FIVE cool features
Cures in just five minutes at 60°C – significantly reduces spray booth cycle-time
Saves on booth energy consumption
Easy to apply and comes out of the oven hard with a glossy premium finish – reduced process time and outstanding end result
Versatile – one clearcoat which caters to all repair sizes
Long pot life (compared to 'fast' clears) means it can be used on anything from one panel to a full respray