Wow! What a night we had on the Gold Coast at HOTA, Surfers Paradise on Friday 17 November. The event was a sell out, there was even a waiting list and we'll have to go bigger and better next year. An extremely well dressed crowd of 350 people attended this year's awards and the feedback has been amazing.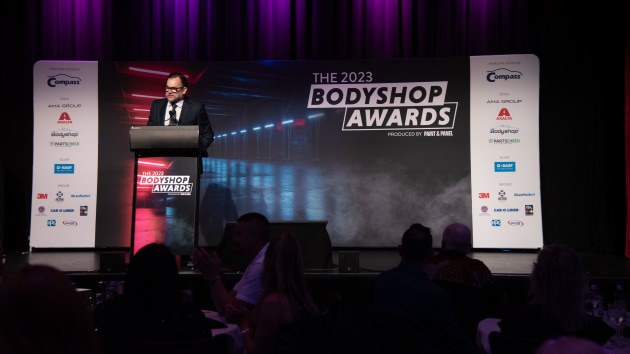 The weather was a bit wild at the start of the evening as you can see from the photos taken on the lovely terrace outside the venue but fortunately it settled down. The wind nearly cost us our excellent MC comedian Lehmo who took off from Melbourne but landed in Sydney and made it to the event by the skin of his teeth, changing into his suit in the cab from the airport. The evening kicked off with drinks outside so that everyone could mingle. The formalities began with a welcome to country from Uncle John Graham, then we were straight into the awards. Every year there are one or two stand-outs who win multiple awards, this year that was Sheen Panel Service from Victoria, Geoff Richards Panel Beating from Dubbo, NSW and Reneew Collision Repair Centre in WA.
The awards are made possible by our many sponsors and we would like to thank our headline sponsor Compass for their continued support of these awards. Thanks also to our Gold sponsors AMA Group, Axalta, iBodyshop and Parts Check, our Silver sponsor BASF and our Bronze sponsors ADAS Solutions Australia, AkzoNobel, Car-O-Liner, Fix Auto, PPG, SAPE Group, 3M and Car Craft. Much as I like a bit of recognition from all the people said well done on the awards night was wholly organised by Yaffa's event company Two De Force. Thanks to Chanel Borg and her amazing team for picking such a great venue and for the seamless organisation of every aspect from the menu (very nice food it was too) to the amazing audio visual -  it takes months of meticulous planning.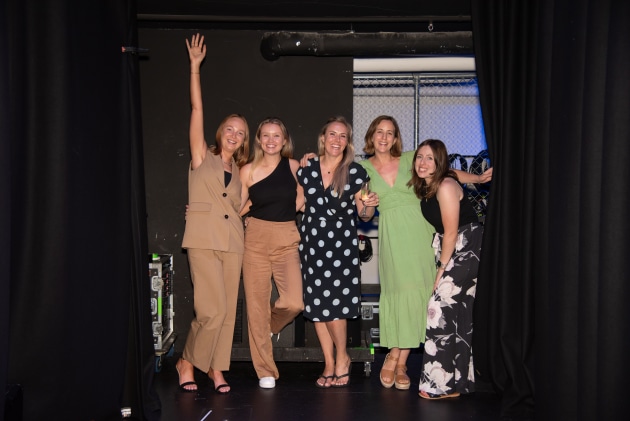 It was a privilege to acknowledge the many talented people in this industry and all of the finalists were outstanding. In the end though there can only be one winner. Everyone kept their acceptance speeches very short and very humble. The Car Craft folk joked that for a usually very chatty Dario Tonon from Eblen Collision Repairs winner of Best Large Shop they had found a way to silence him in meetings - just give him a trophy. It was moving to see how humble everyone was when they received their awards and that was mainly because they were shocked to be up on stage and didn't expect to win. 
The best shop awards were announced after the main course and when formalities ended the DJ got to work.
Headline sponsor James Frape of Compass gave my boss Tracy Yaffa palpitations when he announced that next year's awards would be held in Fiji. They won't by the way, we are looking at Sydney for next year as we haven't held the awards there since 2018. We will announce the date for next year's night of nights shortly.
Our inaugural Hall of Fame inductee Robin Taylor from Axalta announced this year's recipient Steve O'Brien from iBodyshop who will be profiled in our January edition. O'Brien was chosen because his product has changed the lives of so many repairers and allowed them to work more efficiently and profitably. 
Congratulations to all of the finalists in this year's awards - the standard was insanely high. Here are the winners of the 2023 Bodyshop Awards. You can read all about the winners and finalists in the digital version of the November/December edition of the magazine. The printed version will be with you in a week or so, obviously we couldn't send it out before the awards night. 
Best Shop Awards
Best Shop New Reneew Collision Repair Centre, WA
Best  Shop Boutique Tony Farrugia Bodyworks, ACT
Best Shop Large Eblen Collision Repairs, SA
Best Country Repairer Geoff Richards Panel Beating, Dubbo, NSW
Best Corporate Shop Gemini Pinkenba, QLD
Best MSO Sheen Panel Service, VIC
Best Dealer Owned Shop Northshore BMW Bodyshop, NSW
Best Practice Awards
Best Customer Experience Reneew Collision Repair Centre, WA
Best Workplace MSO Sheen Panel Service, VIC
Best Workplace Bissells Paint and Panel, QLD
Safety Award Sheen Panel Service, VIC
Business Excellence Geoff Richards Panelbeating, NSW
Community and Social Responsibility Sheen Panel Service, VIC
Individual Awards
Manager of the Year Joseph Ricciardi, Gino's Panel & Paint, WA
Young Achiever Michale Walden Gemini Townsville AMA Group, QLD