The first day of the IBIS Summit in Munich, Germany closed with a session from Ford's global collision business and strategy manager Jennifer Boyer, announcing Ford's intention to become much more involved in its customers' collision repair experience.
Boyd described the collision industry as at a pivotal point with the advent of ADAS systems making repairing vehicles an even more complex process.  There are over two million Fords involved in accidents in the US each year and around the same number in Europe. Boyd said the company realised that it had been distant from the repair process for too long and that it needed to ensure that its brand was not compromised in the repair process.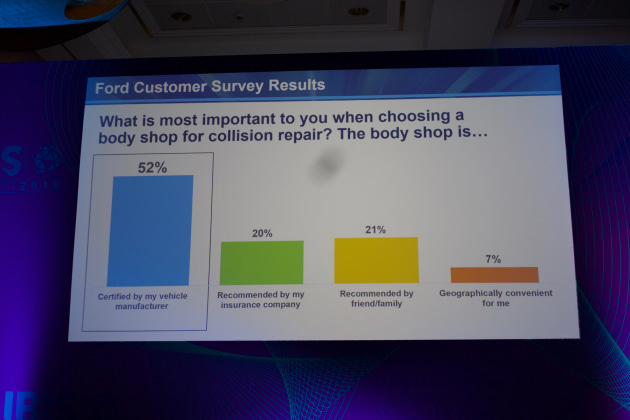 Customer focus groups also clearly stated that they wanted Ford to be involved that the repair process, accordingly the company is committed to a worldwide network of Ford-approved body repairers.
Day one of the 2018 IBIS Global Bodyshop Symposium contained interesting session on gaining customer trust online, profiting from disruptions, predications for the industry in 2030, the future for mobility and fleets, a session with a UK consolidator and Frank Liu from Fix Auto China and a great session from our columnist Brad Mewes examining the stages of industry consolidation.
Day two begins for me in an hour so we will post a full conference report online in the coming days as well as a report in the next issue of the magazine.