I-CAR Australia Gold Class Coordinator Gary Wood has announced that Fix Auto Wollongong in New South Wales has been awarded the prestigious I-CAR Gold Class Collision status.
"I am delighted to announce that Rodney and the team at Fix Auto Wollongong have achieved I-CAR Gold Class recognition. We developed a training plan for them to achieve Gold Class in December 2017 and they have achieved the accreditation well ahead of schedule. Congratulations to everyone involved for their enthusiasm and commitment to training," said Wood.
"It is a great privilege to be the first Motor Vehicle Repairer in the Illawarra Region to be awarded the I-CAR Gold Class accreditation. We have strived to provide Gold Class service and quality repairs for all our clients, and this new accreditation makes it official," said Fix Auto Wollongong's Managing Director, Rodney Tannous.
"I feelthat  a modern-day facility needs to constantly update their equipment, but it's even more important for my team to have ongoing training. We pride ourselves on providing the highest level of service and expertise possible, and this accreditation is part of that promise.
" Being part of Fix Auto is helping me to future proof my business, and as a team we plan to achieve I-CAR Gold Class across the entire Fix Auto Network"
Masada Prestige Paint and Panel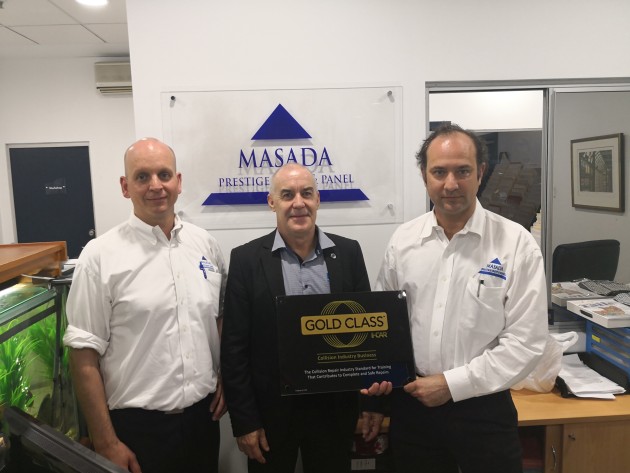 Masada Prestige Paint and Panel in Alexandria, New South Wales has also achieved I-CAR Gold Class Collision status.
"It is a credit to Masada Prestige that they have completed the training required to achieve the  I-CAR Gold Class accreditation in such a short period of time. Participating in virtual classroom training, the I-CAR steel welding certification and ITA training with their refinish company has displayed their commitment to training, ensuring that all staff members are equipped with the most up to date knowledge required to safely repair today's vehicles," said Wood.
"We at Masada Prestige Paint and Panel are very proud to have achieved I-CAR Gold Class. The team found the training enjoyable and very interesting, everyone involved showed interest in future courses to improve their skill levels. I-CAR was able to deliver the training in a relaxed environment that suited everyone. We look forward to working with I-CAR in the future," said Masada's Brian Porter.