AMBRA chairman Jeff Williams said: "The industry has been rapidly investing in new technologies and training to meet the ever changing designs and technology advances that all manufacturers are now including in their products. 
"With that comes greater demands on repairers to meet their obligations to the customer to return vehicles back to the road safely with all componentry intact and operational.
"To meet these standards both repairers and insurers adhere to the MVIRI Code of Conduct first introduced in 2006, and although there has been some changes to the Code, the core principle remains, to carry out repairs in accordance with manufacturers technical specifications."
Williams points out that this principle alone if in place in the USA may have prevented a repairer from accommodating an insurer's cost model to incorrectly repair the vehicle. (Honda incorrectly repaired pictured here Honda OEM repair procedures demand a shop tack-weld the front and rear corner edges of the new roof and then perform a combination of two- and three-plate spot welds and MIG plug welds.)  "We are all aware of the end result to the occupants and also the lawsuit successfully brought against the parties" he said.

"The MVIRI Code of Conduct also highlights the need to move from Funny Time and Money. Insurers demand, quite rightly, that we produce an OEM repair method before commencing repairs, but we are then required to provide an estimate based on a magical and outdated formula. Alternatively we use an insurer-controlled or influenced times guide and an hourly rate that also appears to be, dare I say, magical in its development and reasoning.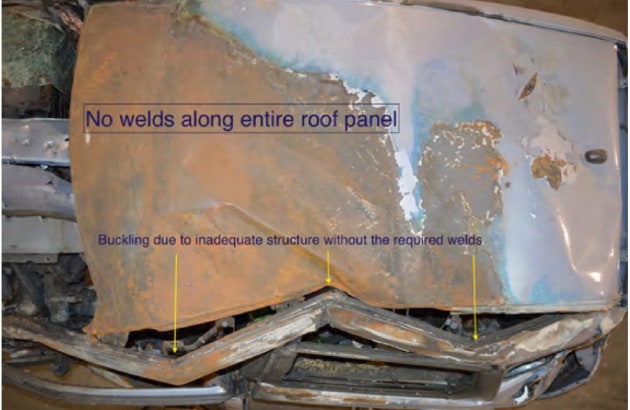 "The MTAA recently solved this issue, when it released a cost calculator for repairers to calculate their own charge out rate, (vetted by the ATO and bench tested by a national accountancy firm). 
"The OEM's produce a method of repair they expect to be complied with to repair the vehicles they have designed and built, they do not however provide the times for these methods.
"While there are four times guides in the market currently, only the Audanet Private platform has been able to include OEM sanctioned times, developed from 54 research centres across the globe and accurately produce times based on a research method.
"When used in conjunction with a transparently calculated hourly rate through the industry's cost calculator and a materials component applied again freely and transparently through the estimating platform we can now confidently say the words 'real time real money' and can also legitimately present a fair and transparent estimate that meets and exceeds the requirements of the MVIRI Code of Conduct and provides the benchmark for negotiations."
Find out more about Audanet Private here.