The autobody repair industry sparkled as they came together to celebrate the outstanding efforts of the 2018 Paint & Panel Bodyshop award winners.
In record for these awards, 190 people attended at the Melbourne Arts Centre on Saturday 12 October to celebrate excellence in our industry. Comedian and broadcaster Justin Hamilton was the hilarious MC for the evening. 
As well as giving all of the state winners their trophies and showing videos of each of the winning shops (which we will load onto our YouTube channel shortly) the best practice and national winners were announced.
We would like to thank all of our sponsors, firstly, for supporting the awards and secondly for bringing along their customers to the celebrations. Axalta and Compass have been the platinum sponsors for three years and have been fully behind our efforts to make the awards bigger and better each year. Both Steven Brett, Axalta's managing director and James Frape, CEO of Compass both spoke briefly on stage. All the supporting sponsors – Glasurit, Car Craft, Motor Trades Association of Australia, Collision Repair Expo, Vantage Automotive, Capital SMART, AkzoNobel, Norton St-Gobain were up on stage to present awards also. Thank you also to all the industry suppliers who came to cheer on their customers.
After a delicious meal MC Justin Hamilton had the audience in stitches with a great stand up routine, before the national winners were announced. There will be a full report on the awards and the profiles of the winners in the November issue of the magazine. Thank you again to everyone who came, we hope you will join us again next year. You can find a full list of the state winners if you click here. Congratulations to all the winners from the Paint & Panel team.
The 2018 winners of the best practice awards are:
Axalta Sustainability Award 
Fleurieu Crash Repairs, SA pictured
Best Dealer Owned Shop Sponsored by Glasurit
Macarthur Prestige Body Shop, NSW
Best Country Repair Shop Sponsored by Motor Trades Association of Australia
Caars Accident Repair Centre, Vic
Rising Star Sponsored by Vantage Automotive 
Carly Ruggeri, Europanels, Vic
Best Customer Experience Sponsored by Collision Repair Expo
Gold Coast Collision Centre, QLD
Operational Excellence Sponsored by Car Craft Accident Repair Centres
Damage Control Accident Repair Centre WA
Innovation Award Sponsored by Norton St Gobain
IQpod mobile repair pod from Extreme Dents, Vic
Outstanding Mentor Award Sponsored by Capital SMART
Brenton Abbott from Fleurieu Crash Repairs SA
Digital Excellence Sponsored by AkzoNobel
Gino's Panel and Paint, WA
Editor's Award
Most Spectacular Autobody Shop in Australia
Spot on Panels, Vic
Best MSO Sponsored by Paint & Panel
Smash Repair Solutions
The 2018 national winners of best shop in each category are:
Best Boutique Shop Australia
West Perth Panel & Paint, WA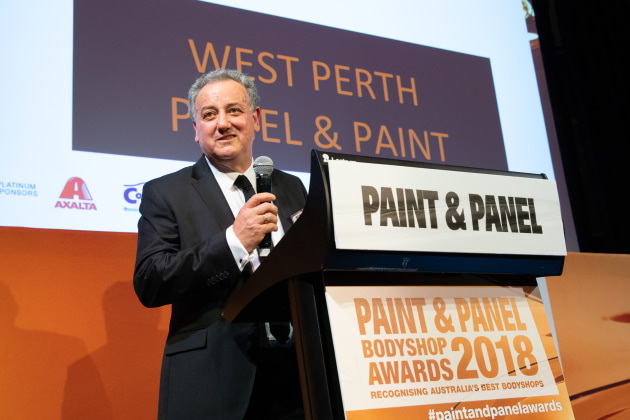 Best Medium Shop Australia
Geelong Smash Repairs, Vic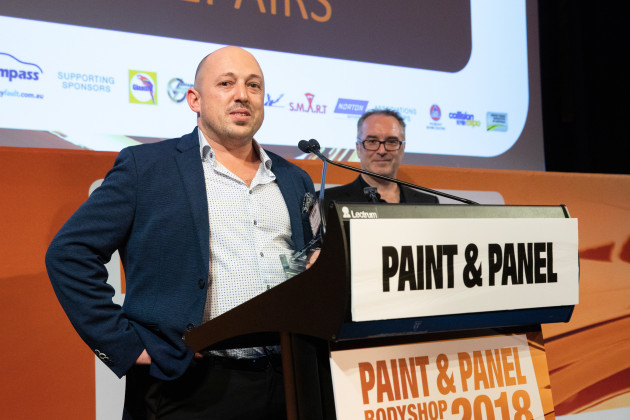 Best Large Shop Australia 
Wales Bus and Body Repairs, NSW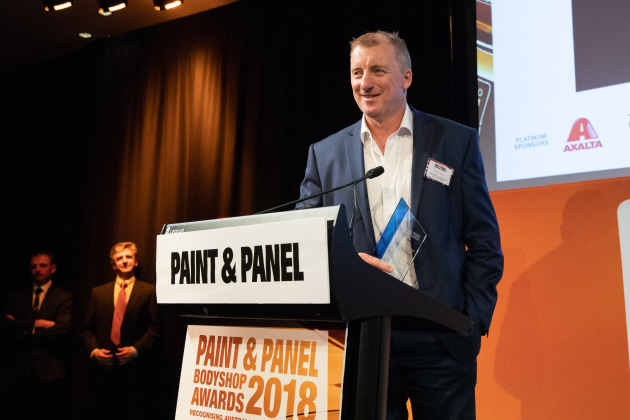 Best New Shop Australia
Willmot Smash Repair Specialists, QLD