It was the biggest and best Bodyshop Awards night ever on Friday 11 November at the Arial Function rooms in Melbourne. A total sell out, 280 people gathered to celebrate the achievements of the finalists and to hear who this year's winner are. It was our first in person awards since 2019. Thanks to our many sponsors for supporting these awards, especially our headline sponsor Compass, they enable the team at Yaffa Media and our event company Two de Force to run the awards program and night of nights.
The formalities were expertly MC'd by comedian and television presenter Lehmo, who announced the winners, kept a crowd that was eager to network focussed during the award announcements and certainly had this editor crying with laughter with his comedy set. 
This year, to accommodate more networking, drinks and canapes were served instead of a formal sit down entree. First up were the individual and best practice awards presentations and the presentation to the inaugural Paint & Panel Hall of Fame inductee.
I thought I had glammed up with some sequins and diamante but I was totally out-dressed by stunning outfits from the many women attending. The gentlemen scrubbed up beautifully too. It was great to see a lot more diversity than in previous years and that extends to gender, ethnicity and age. There was a real sense of occasion and it was a privilege to be able to put on an event worthy this vibrant industry that helps to keep this country mobile.
It was brilliant to be able to acknowledge many of the people and businesses who had won in the last two years when our awards were virtual. There were many there and it was great to give them in person applause.
After the main course it was onto to the best shop awards. Formalities ended in plenty of time for people to hit the dance floor and to take pictures at the media wall. 
It was announced that next year the awards will be held on the Gold Coast. Here's what some of the award winners, guests and sponsors had to say.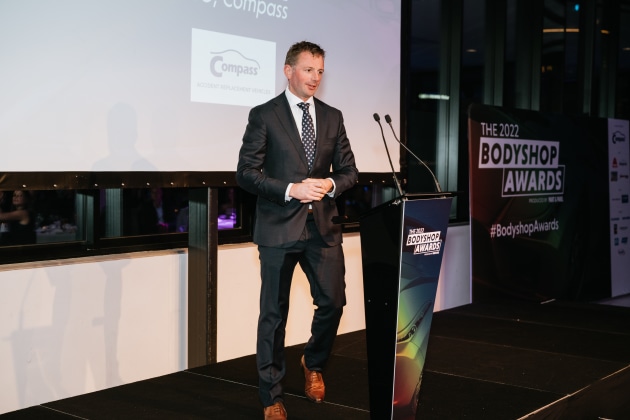 James Frape, Compass
"What a cracker of a night. To think this started off in a pub with an attendance of 50 to now 300 people all dressed to the nines. Can't wait for next year on the Gold Coast!"
Kirsten Dodd, BASF Australia 
'BASF were proud to be a sponsor of the Paint & Panel Bodyshop Awards. It was incredibly rewarding to see the passion for this industry is alive and well and the joy that recognition brings to everyone who works so tirelessly to ensure not only the sustainability of their business, but also the industry. It is encouraging to see a new generation of people entering the industry who will continue to grow and contribute to the future.
Wonderful to be able to meet in person again, the amount of people who attended the event, shows that networking opportunities were sorely missed over the last two years. A huge thank you to the Paint & Panel team and also Two de Force for the hard work from the co-ordination of judging to the event delivery.'
Lana Pagiamtzis, Fix Auto Mulgrave
"An amazing evening held by Paint and Panel thoroughly enjoyed by all our team from Fix Auto Mulgrave. The venue, food and entertainment was spectacular and ending off the night with music and dancing was awesome.
Thank you for bestowing Fix Auto Mulgrave with such an honour and this special award, we feel overwhelmed and grateful for the recognition."
Steven Brett, Axalta 
"A great night: well presented and very well attended.  Congratulations again to all the finalists."
Sarah Karavasilias, MPSR Group
"My, my, my! Didn't everyone dress up to the nines! We had a great night, it was lovely to catch up with everyone face to face! For me, it was nice to put a face to the name as well." 
Glenn and Tammy O'Donnell, North Shore BMW Bodyshop
"The Paint and Panel Awards night provides a great opportunity for us to network with like-minded repairers and share ideas and experiences. Congratulations to all the winners on the night, and a big thanks to Sam Street and Yaffa for the hard work and effort in organising such a great event and for bringing our counterparts together to celebrate our industry which was very much needed after a very challenging few years of dealing with COVID and lockdown.
Sandra Noach, IQBodygroup
"This year's Paint and Panel Awards was taken to the next level, so many people committed to our industry in one place. It was an honour and a privilege to be part of a memorable evening." 
Todd Richards, Geoff Richards Panelbeating
"Our team was so impressed with the professionalism of the whole event. All the award presentations ran to schedule and the food was great, the room looked amazing and the presenter just had the room relaxed and laughing.
"All in all it was a wonderful vibe. I couldn't have been more surprised or humbled to be surrounded by such wonderful people and receive a National Award.
"Everyone was so great and seemed genuinely happy for each other - it was simply brilliant.
Carl Bizon AMA Group
"It was fantastic to celebrate the many successes across the industry, and we were very proud to be sponsors of this great event. We would once again like to congratulate all the nominees and winners."