Global NCAP has released its first set of 2017 results for #SaferCarsForIndia, the campaign aimed at ensuring safer vehicles throughout the country.
The first set of results were focused on GM Motor's Chevrolet Enjoy and the Ford Aspire.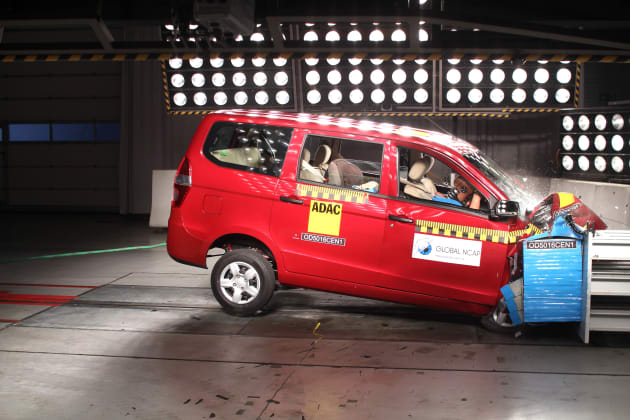 The Enjoy, in its base version, is sold without airbags. It recorded a disappointing zero star for adult occupant protection as a result of this, as well as poor structural performance.
Driver injuries were said to have been unacceptably high. The vehicle also scored two stars for rear seat child occupant protection.
The Aspire showed improvement, with the vehicle fitted with double airbags as standard, scoring three stars for adult occupant protection and two for child protection.
Global NCAP secretary general David Ward said the while the Aspire showed that basic safety standards can be achieved in India, the Enjoy presented serious concerns for the market.
"Ford's three star result shows that basic levels of safety are achievable as standard in the Indian vehicle market. It is also encouraging to see progress in safety compared to the earlier version of the Figo we tested in 2014.
"In contrast, we are extremely concerned about the poor result of the Chevrolet Enjoy. There is nothing to enjoy about a zero star safety score and GM should be embarrassed that they are selling cars with such inadequate levels of occupant protection to Indian consumers."
In India speed is the causative factor for the deaths of over 64,000 people in road crashes every year.
In 2015 over 63 per cent of the 146,000 road crash fatalities occurred on national and state highways.
Global NCAP has also released footage of both the Aspire and Enjoy's crash test footage.